I to kakav!
25. jubilarni SD kup morao je da se obelezi tako da se "pamti zauvek". Po prvi put u istoriji naseg kupa izradjen je pravi pravcai – trofej!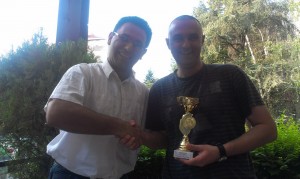 Ponosni clan nase male zajednice koji je prvi imao tu cast da podigne jedan ovakav pehar jeste ElKampo. Tako sada neki klinci mogu na policama videti ovako retko lep trofej i verovatno ce se zapitati "koja je to online igrica kad poklanja stvarni pehar za prelazak igrice"? E pa deco moja, nema tu "presao sam igricu na hard" ili "stigao sam do poslednjeg nivoa". Hettrik je nesto drugo, razumecete ako krenete da se igrate 😉
Necemo duziti kao ranije dugackim izvestajem sa kupa. Nemamo ni elana ni mladosti vise kao pre. Ako ovo citaju neki novi smederevski klinci neka se jave i neka preuzmu pisanje i vodjenje ovog kupa. Bili bismo im veoma zahvalni 🙂
Ono sto moramo izdvojiti kao najzanimljiviji detalj ovog izdanja kupa jesu cetvrtfinalni duelni – dvoboj smederevskih i beogradskih velikana!
FC Zadrugar – HOW MUCH: dovoljno je reci WlayCo i Alex_SD. I sve je jasno. Istinite legende SD kupa.
smezuljci – Moravsko Predvecerje: komsije koje se smenjuju na vrhu smederevske regije
Banovo Brdo Utd – Karaburma City: duel sampiona ElKampa i Lazara sa Karaburme.
Fontana – Dobanovci Utd: duel Fontane i Dobanovaca
Lepo od hettrika sto nam je spojio ovako lepe duele!
Sve u svemu smesak sampiona sve govori 😉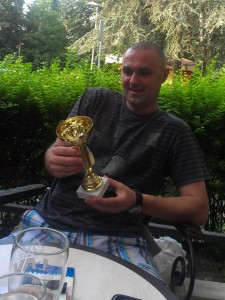 Tradicionalno nastavljamo da kacimo samo rezime kupa – grupnu i knockout fazu: