Nije puno trebalo Zeki da vrati titulu SD kupa u svoje vitrine. Posle svega jedne sezone u kojoj je pehar boravio u Novom Sadu sampion Srbije i ucesnik Mastera lagano se prosetao do trona 22. SD kupa. I pehar ponovo putuje u Pozarevac!
Fontana 2 – 4 Misicvolizeku
Tri minuta pre pocetka finala SD kupa pocelo je i 1. kolo Mastera u kojem je ucestvovala i ekipa PFC Misicvolizeke. Kako su igraci njihove ekipe uspeli da stignu na dva razlicita kraja sveta i odigraju dve utakmice istovremeno, to samo Hettrik zna. Dzentlmenski, Zekan je mnogo jaci sastav izveo u Masteru.
Misicvolizeku je poveo u 16., a prednost je povecao vec u 21. mitutu. Cinilo se da ce lako izaci na kraj sa Fontanom. Ali Bolex je zamalo opravdao epitet favorita iz senke i do 52. minuta uspeva da izjednaci rezultat. Mnogi su se na stadionu u tom trenutku prisetili naslova na sajtu SD kupa "Bolex kupio titulu!". Ipak, glavni finansijer ove manifestacije, kao Roman Abramovich, ostao je uskracen za ceremoniju podizanja pehara. Svega 10ak minuta kasije rezultat se ponovo vratio na plus dva.
U svakom slucaju cini nam se da veoma uspesno zavrsen prvi SD kup na popularnim "turnirima". Nekima se manje svidja, nekima vise. To ce uvek biti tako..
Kako smo ove sezone SD kup zapoceli vec od 1. kola sezone zeleli bismo da tako nastavimo i tradicionalno u to vreme pocinjemo sa grupnom fazom. Iz tog razloga nikako nemojte prihvatati pozivnice za bilo koji drugi kup nakon nekog 9-10. kola sezone posto necete stici da zavrsite drugi kup do pocetka SD kupa. Mozemo uvek pomeriti pocetak kupa za nedelju-dve ako bas zelimo nekog sacekati, ali to ne bi bilo fer prema ostalima da se cesto ponavlja.
Uzivajte u vrelom letu!
Grupna faza: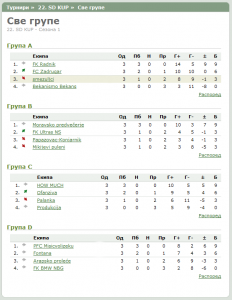 Knockout faza: